Rectangular plasters (70 x 20 mm) for small wounds, breathable or hypoallergenic. Skin coloured.
Possibility of printing the plasters from 100,000 units.
The protective wrapper of the plaster is semi-transparent on the front (so that the printing of the plaster is visible) and white on the back and cannot be printed on.
BPA free.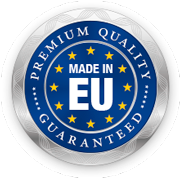 Certified manufactured
within the EU